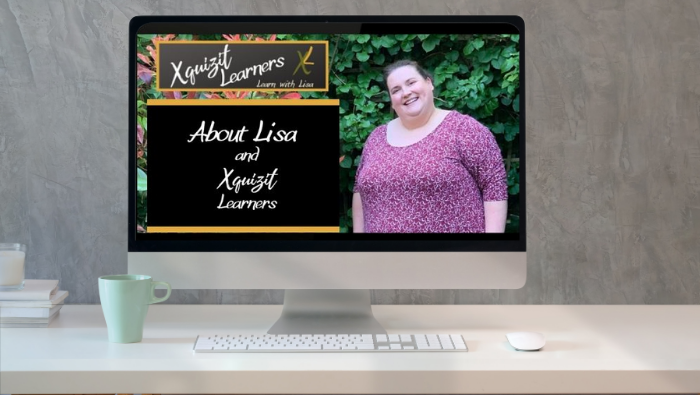 My first blog post . . .
Starting Again
I gave up classroom teaching to start my own online business
Xquizit Learners has gone live on the internet! My web site is now online and here I am writing my first blog post! It's been quite a journey getting here. Building this website I've learnt so much and I thoroughly enjoyed the process. It made me realise that you really can do anything new you put your mind to. It also taught me that I need to work on becoming less of a perfectionist!
Feeling the fear and finding my 'brave'
Even while writing this blog post I'm convincing myself to "feel the fear and do it anyway".  It's not always easy to start something completely new, like give up your job and start again. In the process you must be brave and open yourself up to being vulnerable so that people can know you, and decide if you might be a good fit to work with them.
Being the perfectionist that I am, my newest mantra's to help me are 'done is better than perfect' and 'FEAR is false evidence appearing real'! They have helped me step out of my comfort zone and try so many new things. I'm enjoying learning new things each day while studying business and art therapy. It is never too late to start something new.
A new start
My starting again and my something new is right here, and you are following along with me! Thanks for visiting this Xquizit Learners blog. I'm so glad you've stopped by here today and I hope you'll come again.
Even though my tutoring sessions, courses and activities are not yet up and running, for now I'm volunteering to help and support parents and children under eight years, to solve their learning challenges.
Take a look at my Facebook or Instagram page and find free tips, advice, motivation and activities to help support and enhance your child's learning at home.
I also have a very supportive growing Facebook Group full of a wonderful tribe of people all striving to become the best possible educators for their children's learning support at home.
It's called 'Teach your child at home 3 to 8 year olds' and the link to the group is the final Facebook icon on the right, at the bottom of each web site page.
I'd love for you to browse through my web site which highlights the services I plan to offer in the near future and provides more information about Xquizit Learners, Learn with me, Lisa Marie.
One of the things I love about teaching online, in this way, is that I can reach children and parents anywhere in the world to support them in overcoming learning challenges. I'd like to work together with you to find ways to help your child exquisitely excel!
How did I end up here?
Well, I fell in love with the benefits of online learning and combined with my love of teaching, I decided I would move from the classroom to the online environment. After twenty three years teaching in the classroom at home and abroad I wanted to continue the career that I love, yet focus more on teaching one to one or small groups, using my specific talent of helping individuals to reach success.
I would still be able to make a difference yet spend more time with my family and have more flexible working hours. I also got excited about the idea of helping parents to feel confident when supporting their children at home, and to teach all that I know about learning through online courses, groups, coaching and membership programs.
I was driven by the fact that my physical health was making being in the classroom more and more challenging, and it was not going to improve. I also wanted the opportunity to be able to take my son to school each morning and collect him once he started school. I unfortunately had to return to work when he was only eight weeks old, and I wished now that I had not needed to do that. I did not want to miss out by not being home and available for him at the beginning of his Primary school years as well.
As a result of all this, the  concept for Xquizit Learners was born! A scary uncertain transition but a necessary one.
Keep on going, through the bad times and the good, the ups and the downs.
Earlier this year despite being unable to work due to illness, I decided to begin some preparations for the future of Xquizit Learners. I made a Facebook and Instagram page and I learnt how to build my own website. Initially this helped me to cope with being unwell, giving me drive and something to focus on, to look forward to when I would recover and offer paid tutoring and training.
Unfortunately, recovery was not to be as quick as I had hoped, I took some time out, but I vowed to return to preparations when I felt well enough. After many months with Post Covid 19 symptoms exacerbating other conditions I am showing some signs of recovery.
My challenge today was to write my first blog post…. done, check! Tomorrow there will be the next challenge, but I know I'm brave enough and will continue to step out of my comfort zone to build Xquizit Learners little by little until I find that it is my comfortable place. Then I will have to look for the next challenge to push me beyond what I believed I was capable of. You can too!
Talk soon, 
Lisa